1960s – Hippies set out on a journey with the Magic Bus, to find something they had not seen in their materialized world. And in the Oriental region, they encountered the spiritual ideas of Hinduism, Yoga, and Buddhism – and the distinct sound of Oriental music.
The concept of this Musical festival is to experience that travel, cherish the cultural differences, and to be a witness of the chemistry when different music unite.
11th Dance of Shiva, following the enthusiasm we experienced in India last year, we will aim a higher dimension, with the artist lineup that could not be better.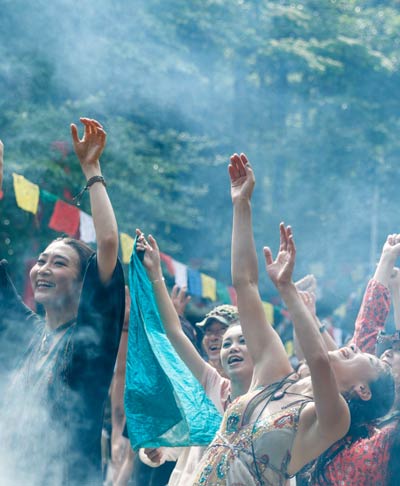 From India, we will be inviting Salil Bhatt, an Indian classics master and a nominee of both Pre-Grammy and Canadian Grammy award.
From Canada, the leading Global Dub artist Adham Shaikh, from Finland, Square Meat, Nano Buds, Salakavala, Kirna. And from Japan, a Mantra Yoga band Vaikunthas, Crystal Nada, and No.9 Orchestra.
Our goal is to share an unforgettable moment. With the best artists from the world, and the sound system, we concentrated to build up a timetable that could lead to that goal.
The joy of experiencing the mind effecting music with the best speaker system on earth.
The moment when borders of musical categories lose their meaning.
Endless dance that leads you to the meaning of life.
Sharing smiles with everyone on the dance floor.
Fellow guests of Dance of Shiva shall be experiencing 2 nights 3 days travel of Overtones, Indian Music, and the electrical music influenced by these oriental sounds.